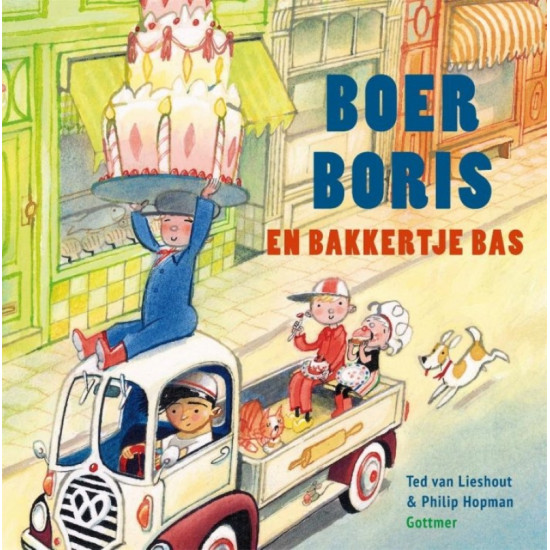 Boer Boris en Bakkertje Bas
'Boer Boris en bakkertje Bas' is alweer het veertiende deel in de razend populaire serie prentenboeken over Boer Boris van Ted van Lieshout en Philip Hopman. Ook dit deel speelt zich weer af op de boerderij van Boer Boris – maar ook een beetje in de bakkerij van bakkertje Bas.

Knol is jarig en dat moet gevierd worden! Boer Boris kan veel zelf, maar een taart bakken, dat laat hij liever aan de echte bakker over. Bakkertje Bas bakt een prachtige paardentaart voor Knol. Hij komt hem zelfs bezorgen.

Maar dan krijgt bakkertje Bas pech onderweg en belandt hij met bestelbus en al in de sloot. Daar kan boer Boris gelukkig weer bij helpen! Hij takelt de bakker uit de sloot en dan kan het verjaardagsfeest eindelijk beginnen. Ted van Lieshout en Philip Hopman blijven een onverslagen prentenboeken-duo, en Boer Boris een onvergetelijke hoofdpersoon!

Productdetails:
Categorie: Prentenboek op rijm
Auteur: Ted van Lieshout
Illustrator: Philip Hopman
Serie: Boer Boris
Uitgever: Gottmer
Bindwijze: gebonden prentenboek
Aantal bladzijden: 32
Afmetingen: 24x24cm
Leeftijd: 3+
Unlimited Blocks, Tabs or Accordions with any HTML content can be assigned to any individual product or to certain groups of products, like entire categories, brands, products with specific options, attributes, price range, etc. You can indicate any criteria via the advanced product assignment mechanism and only those products matching your criteria will display the modules.
Also, any module can be selectively activated per device (desktop/tablet/phone), customer login status and other criteria. Imagine the possibilities.