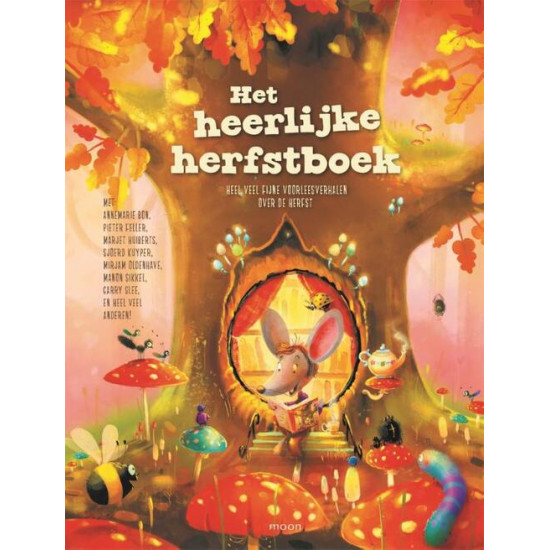 Het heerlijke herfstboek
Een heerlijk herfstige voorleesbundel vol knusse verhalen en illustraties
In deze heerlijke dikke voorleesbundel vind je de allerleukste voorleesverhalen over de herfst. Over hoe de herfst haar kleuren kreeg, over een knorrig biggetje dat niet wil dat de dagen korter worden, over bladermonster Bob, over Hond en Kat die dierendag vieren, over Zwier de Zevenslaper die geen zin heeft in zijn winterslaap en over Rani die nergens bang voor is... of toch? En over nog veel en veel meer!

Met verhalen van Annemarie Bon, Marianne Busser & Ron Schröder, Ruby Coene, Pieter Feller, Marjet Huiberts, Barbara Jurgens, Marloes Kemming, Hanna Kraan, Rindert Kromhout, Sjoerd Kuyper, Lucas van de Meerendonk, Elisabeth Mollema, Mirjam Oldenhave, Nienke Peeters, Cora Sakalli, Pamela Sharon, Manon Sikkel, Carry Slee en Marieke Smithuis.
Productdetails:
Categorie: Voorleesboek
Uitgever: Moon
Bindwijze: Hardcover

Unlimited Blocks, Tabs or Accordions with any HTML content can be assigned to any individual product or to certain groups of products, like entire categories, brands, products with specific options, attributes, price range, etc. You can indicate any criteria via the advanced product assignment mechanism and only those products matching your criteria will display the modules.
Also, any module can be selectively activated per device (desktop/tablet/phone), customer login status and other criteria. Imagine the possibilities.