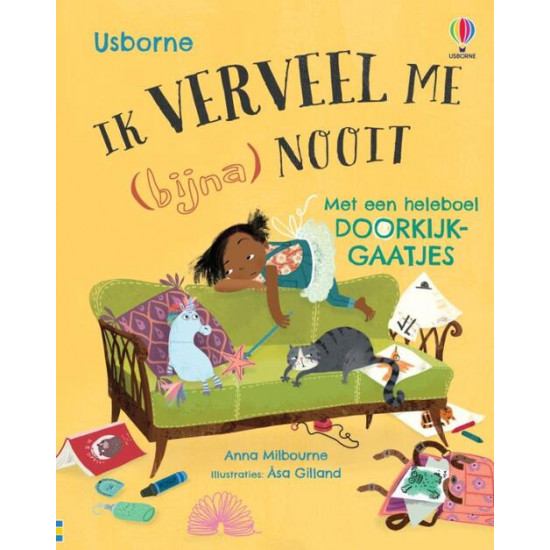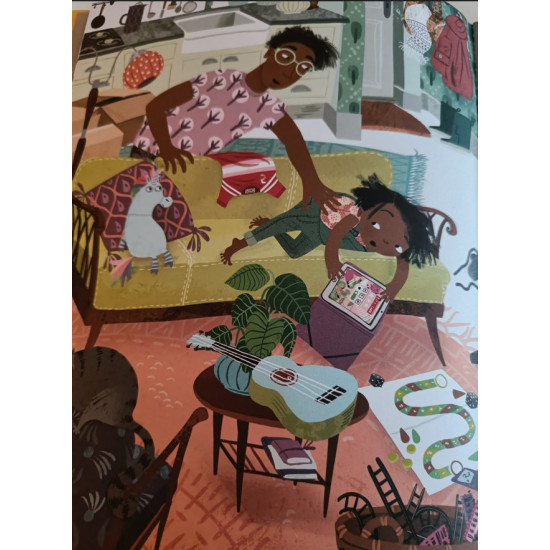 Ik verveel me (bijna) nooit
'Ik VERVEEL me!' – zeg jij dat ook weleens? Ga mee op avontuur in de levendige fantasie van dit kleine meisje als ze ontdekt dat verveling helemaal niet zo erg is. Want je vervelen komt vlak voor een ECHT GOED IDEE!
Productdetails:
Categorie: Prentenboek
Auteur: Anna Milbourne
Uitgever: Usborne
De mening van de Vrolijke Boekenwurm
Ik VERVEEEEEL me!

Misschien hoor je als ouder deze kreet ook regelmatig voorbij komen?!?
Schrijfster Anna Milbourne laat met dit geweldige boek zien hoe belangrijk het is dat kinderen ook de ruimte krijgen om zich te vervelen, want dan komen ze tot Echte Goede Ideeën.

Zo verandert bij het meisje een kartonnen doos in een tovertrein waarmee ze op reis gaat. En wat gekras op een tekenblaadje wordt een hongerig spaghettimonster en de mieren in de tuin nemen haar mee naar het Koddige Kevercircus. Zie je wel hoe leuk deze dag is geworden.

Ontdek dat verveling helemaal niet zo erg is. Want je vervelen komt vlak voor een.....Echt Goed Idee!
Unlimited Blocks, Tabs or Accordions with any HTML content can be assigned to any individual product or to certain groups of products, like entire categories, brands, products with specific options, attributes, price range, etc. You can indicate any criteria via the advanced product assignment mechanism and only those products matching your criteria will display the modules.
Also, any module can be selectively activated per device (desktop/tablet/phone), customer login status and other criteria. Imagine the possibilities.
Stock Status:

In Stock

ISBN:

9781803704791