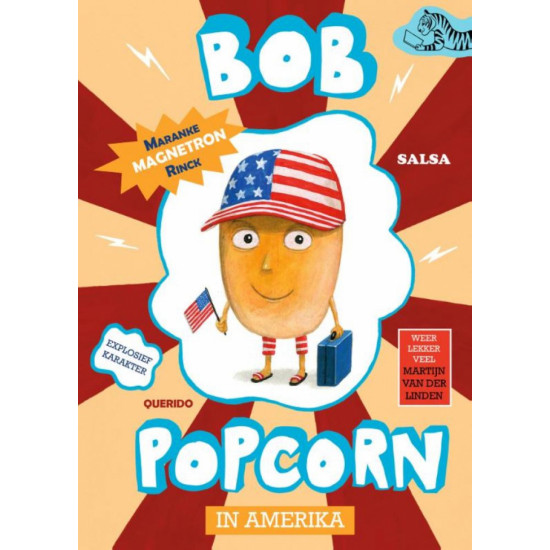 Bob Popcorn in Amerika
Amerika, opgepast: hier komt Bob Popcorn!

Ellis en Bob hebben een belangrijke ontdekking gedaan: Bob is niet de enige levende maiskorrel! Er bestaan er nog meer, in Amerika. En Bob wil ze dolgraag ontmoeten. Gelukkig mogen Ellis en haar vaders logeren op de boerderij van Boer Bill. In de zomervakantie vliegen ze naar Amerika. Daar wordt duidelijk dat Coraline, de directeur van de popcornfabriek, nog veel gemener is dan Ellis en Bob dachten. Zal het ze lukken om haar tegen te houden, en alle levende maiskorrels te redden?

Een grappig en fantasierijk verhaal voor iets geoefende lezers, met heel veel illustraties. Maranke Rinck en Martijn van der Linden maakten samen verschillende prentenboeken, waaronder Tangramkat (bekroond met het Gouden Penseel en een Zilveren Griffel).

Productdetails:
Categorie; (lees)boek
Auteur: Maranke Rinck
Illustrator: Martijn van der Linden
Serie: Tijgerlezen
Uitgever: Singel
Bindwijze: hardcover
Aantal bladzijden: 160
Unlimited Blocks, Tabs or Accordions with any HTML content can be assigned to any individual product or to certain groups of products, like entire categories, brands, products with specific options, attributes, price range, etc. You can indicate any criteria via the advanced product assignment mechanism and only those products matching your criteria will display the modules.
Also, any module can be selectively activated per device (desktop/tablet/phone), customer login status and other criteria. Imagine the possibilities.